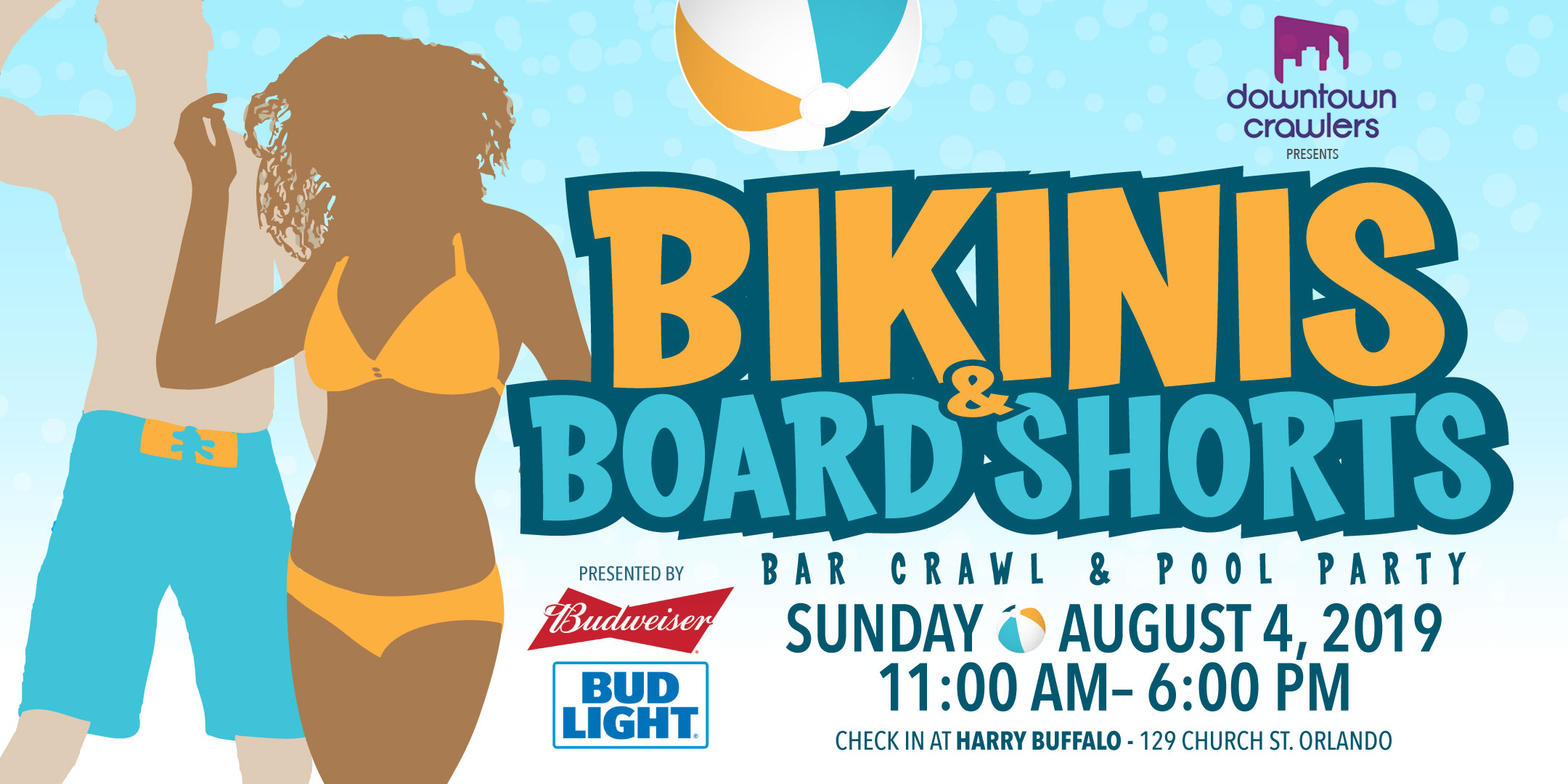 Bikinis & Board Shorts Bar Crawl and Pool Party
Sun, Aug 4 from 11am - 6pm
This is it! It's Summer in the City, and we are throwing a giant bar crawl in downtown Orlando. We are finsihing it off with a amazing pool party/block party on Wall Street where a 50 x 25ft pool awaits. Along the way we will make 4 bar stops with a special water related features at each location. (inflatable water slide, misting and splash stations, dunk tank, pool)
The fun starts with check in at Harry Buffalo from 11:00AM to 12:30PM! There will be a giant inflatable water slide set up outside on Church street.
BUT WAIT - THERE'S MORE!
At 12:30pm, we will make our way to Bar Stop #2 Latitudes/Chillers/Cahoots on Church street where you can cool off with a misting and splash station.
At 2pm, we head to Bar Stop #3 Stagger Inn for Delicious SHOTS, and a Dunk Tank with special guest awaits. Don't forget to try your luck at the famous spinning wheel.
At 3:30pm, we move on to our final destination, Wall Street which has multiple bars and of course our 50x25 ft Pool waiting to party the rest of the day.
Each Crawler will be treated to one free Welcome Shot at each bar as well as exclusive drink and food specials. Free cover to all bars and entry into the Pool.
We will have fun bar games set up throughout the day, and let's not forget we are bringing our Tampa Famous Beer Shotgun to Orlando. Have to come out to see it in person. (Hint: ever shotgun a beer with hundred's of people at the same time)

BAR CRAWL TICKET INCLUDES:
- One FREE Welcome Shot at each of the 4 bars!
- One FREE "shotgun" beer!
- Entry to Pool Party
- Water slide access
- Free cover to all venues
- Exclusive food and drink specials
- Bar games access
- Raffle entry to win drink vouchers and tickets to local attractions!
- Additional surprises!

TIMES & LOCATION
Date: Sunday, August 4th, 11am - 6pm.
Start: Harry Buffalo
129 W Church St
Orlando, FL 32801
Let the good times crawl. We are bringing the beach vibe to downtown Orlando.
Follow the action on our social channels Facebook, Instagram, Twitter to see what else we're up to!

Facebook: https://www.facebook.com/downtowncrawlers
Twitter: https://www.twitter.com/downtowncrawler
Instagram: https://www.instagram.com/downtowncrawlers
Email: info@downtowncrawlers.com

HOSTING CORPORATE EVENTS OR PRIVATE PARTIES?

Let us organize your next event or special occasion. Contact us for details:
Home: downtowncrawlers.com
Email: info@downtowncrawlers.com

Join our Ambassador program to earn rewards