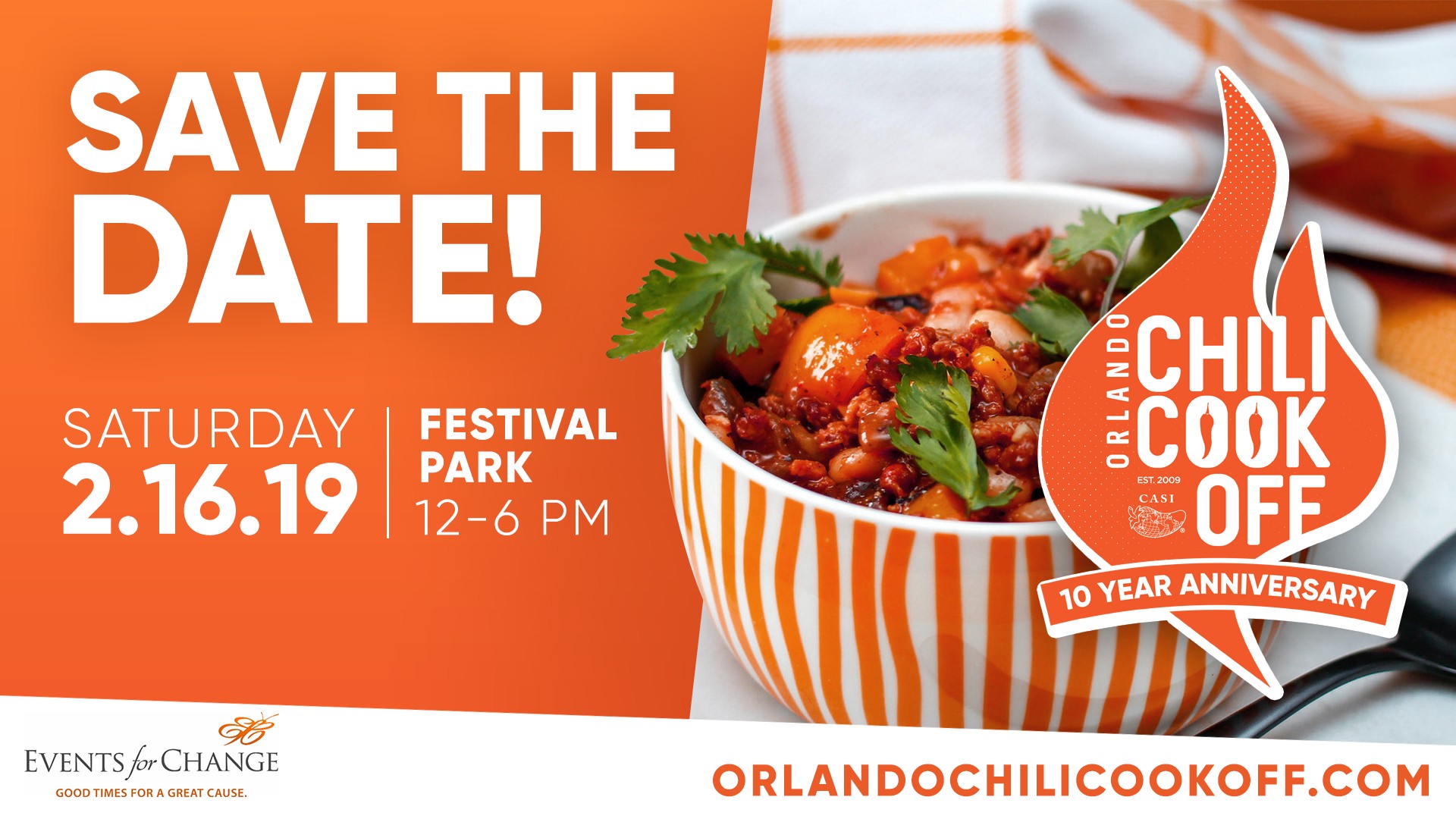 10th Annual Orlando Chili Cook-off
Sat, Feb 16, 2019 at 12pm
This tickets are no longer for sale.
Bringing the heat since 2009, the Orlando Chili Cook-off is one of the city's most mouthwatering festivals. Enjoy a day at Festival Park, sampling from 100+ chili booths, crafted by local restaurants and nationwide chefs. Dig into food truck fare, beer and wine, and family-friendly refreshments. Experience live music, games, vendors, a DJ station, and the Kids Zone!
Orlando Chili Cook-off 10 Year Anniversary is proud to benefit The Camaraderie Foundation!
General Admission Includes:
- Access to the Orlando Chili Cook-off 10 Year Anniversary, featuring hundreds of chilis to sample, live music, fun games and more!
Miller Lite VIP Includes:
- Access to the Miller Lite VIP Zone: Direct view of stage, private bar, private restrooms, light bites while supplies last
- 4 complimentary beverages (Miller Lite and wine selection)
- VIP Lanyard
- VIP swag bag - includes koozie, giveaways, and more!
- VIP Special gift
PLUS all the benefits of general admission!
Tito's Experience Zone Includes:
- Access to the Tito's Experience Zone: View of stage and experiences, private bar
- 4 Complimentary Tito's cocktails
- Tito's Experience Lanyard
- Tito's Swag bag - includes giveaways, and more!
PLUS all the benefits of general admission!
Orlando Chili Cook-off 10 Year Anniversary is proud to benefit The Camaraderie Foundation!
Camaraderie Foundation's mission is to provide healing for invisible wounds of war through counseling, emotional and spiritual support for all branches of Post-9/11 Veterans, Service members and their families.
The Camaraderie Foundation provides access to mental health counseling services, at no expense, to these Military Service Members, Post-9/11 Veterans and their families. Our warriors and their families experience Post Traumatic Stress, Traumatic Brain Injury, Military sexual trauma, divorce, substance abuse, spousal abuse, child abuse and other problems which we serve through the private sector and may supplement and/or add to existing government programs. With your support we can help these Service Members and their families. Eighty-two cents of every dollar raised is spent directly on our programs.
To learn more visit, CamaraderieFoundation.org
Big News: We are the CASI Southeast Regional Championship again this year! The best of the best will battle it out and the top 3 CASI winners automatically qualify for the Terlingua International World Chili Championship. Register to compete online at OrlandoChiliCookoff.com, or email Dan@orlandochilicookoff.com.
Thank you to our sponsors:
Interested in sponsoring and supporting the event, please contact Zackary@EventsForChangeInc.org.
About the festival: The Orlando Chili Cook-off was started in 2009 by a bunch a friends enjoying a Holiday beer and eating some great chili. The idea for a local chili cook-off took flight and Orlando has enjoyed this premier event every year since. For the 10th Anniversary, the Orlando Chili Cook-off is back under the leadership of Events for Change, Inc and its founder Ken Roberts.
Events for Change, Inc. is a not for profit 501c3 that started the event and managed it for 7 years. The torch was then passed to the Orlando Weekly and for the last two years they have taken the event to new heights.
For the 10th anniversary, the event has come back home. Ken Roberts and his partner Zackary Rowe will be at the helm, ensuring another incredible event. Held again at Festival Park on Sat. Feb 16th, 2019 the cook off is prepping to be bigger and better. They are anticipating a record number of cooks ensuring attendees will taste the best chili in Central Florida.
The event will be a sanctioned CASI, Chili Appreciation Society International, cook off, inviting the top cooks in the nation to complete and qualify for the CASI World Championship in Terlinqua, Texas.
Events for Change, Inc. A not for profit organization that has a mission of Good times for Great Causes. Over the last 10 years the organization has given over $350,000 to local charities such as, Special Olympics, Wounded Warriors, Alex's Lemonade Stand, Camaraderie Foundation and Kiwanis.
Mark your calendars: The 10th Annual Orlando Chili Cook-off returns February 16th!
All events are subject to change or cancellation at any time without notice. Events/shows are Rain or Shine. Once purchased, tickets are nonrefundable. If there has been a significant change to the event, such as location or date change, we will send an announcement to all ticket holders with details on an updated refund policy.