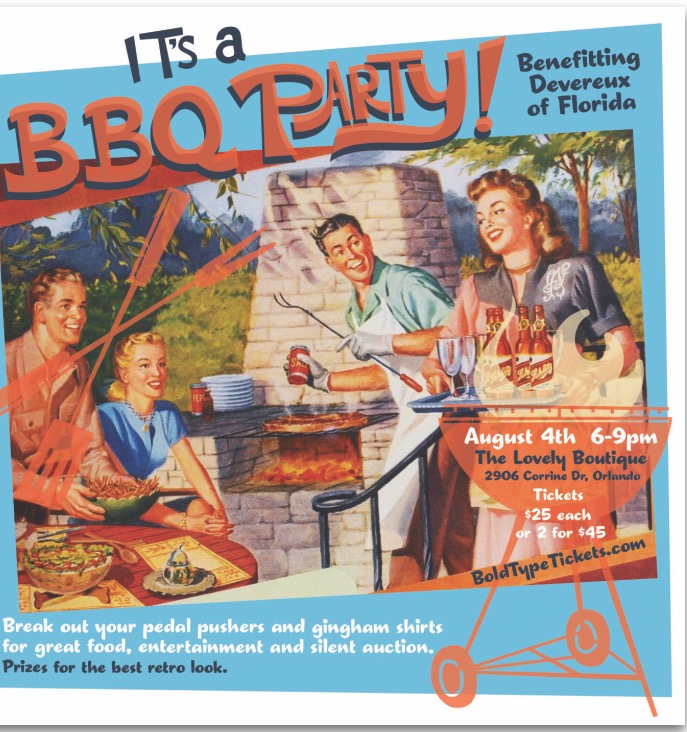 Retro BBQ Benefit
Fri, Aug 4, 2017 from 6pm - 9pm
Remember when you used to get on your crisp and clean, best summer gear and BBQ with the Jones'? Me neither, but to benefit the children and families of Devereux of Florida, we're gonna do just that! Your tickets to this swanky affair act as your DeLorean-like portal for a step back in time to devour provisions from this inspired age, live entertainment that I assure you, will stupefy the most hesitant of wallflowers, and there will also be a variety of some cherry opportunities to win during our silent auction.
Each Cat with a paid entry ticket is entitled to a dinner, sweet treats and a cool, signature beverage. The two attendees with the most spirited threads will win a prize and our undying devotion (truly important, I tell ya.)
This benefit promises all the swagger and swing of those stuffy events we save for the end of the year but will rock your cradle with lively tunes, a luscious meal inspired by the time, and dessert and cocktails that only the hippest neighborhood in Central Florida can provide.
Bring your best, baby…but leave your outdated social policies at the door.