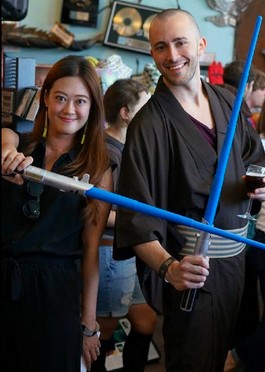 May the Fourth Be With You Sip and Stroll
Once a year the Audubon Park Garden District becomes a wretched hive of scum and villainy. You must be cautious, 'cuz the May the Fourth Sip and Stroll returns Thursday May 4, 2017, 5 to 8 pm. Ticket buyers will enjoy craft beer and boutique wine, all while dodging those pesky Join the Legion posters. Multiple stops. Check in will be at Redlight Redlight (2810 Corrine Drive, Orlando, FL 32803.)

Love Star Wars, but don't want to do the Sip and Stroll? That's ok! We'd love to have you visit and hang out, too.

APGD Sip and Strolls are always family friendly. Children welcome with parents or guardians.