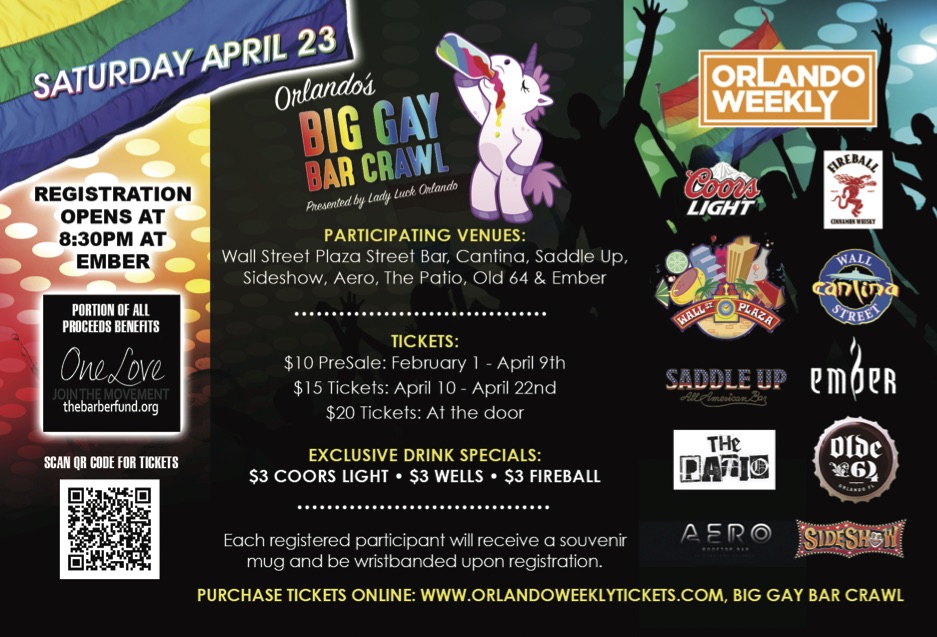 Orlando's Big Gay Bar Crawl Presented by: Lady Luck Orlando
Sat, Apr 23, 2016 at 8:30pm
Come out for Lady Luck Orlando's First ever BIG GAY BAR CRAWL!!!! Be out and proud while taking over downtown Orlando's hottest bars. Registration will start at Ember @ 8:30 pm. You will recieve a wristband and a complimentary BIG GAY plastic beer stein to go along with you in your travels. A portion of our proceeds are going to be donated to The Barber Fund who help those living with cancer. (http://www.thebarberfund.org/) Come on out and party for a purpose with Lady Luck all night with ORLANDO'S BIG GAY BAR CRAWL!!! Sponsored by Coors, Fireball, And Orlando Weekly.
Get your tickets now:
$10 - Lucky Early Bird Admission (Feb 1- Apr 9)
$15 - Pre-Sale Admission (Apr 10-22)
$20 - At Door
Participating Bars:
Ember
Saddle Up
Wallstreet Catina
Wall St. Plaza Street Bar
Sideshow
The Patio
Aero
Olde 64

EXCLUSIVE Specials:
$3 coors light
$3 wells
$3 fireball
and free entry to all the bars listed above.