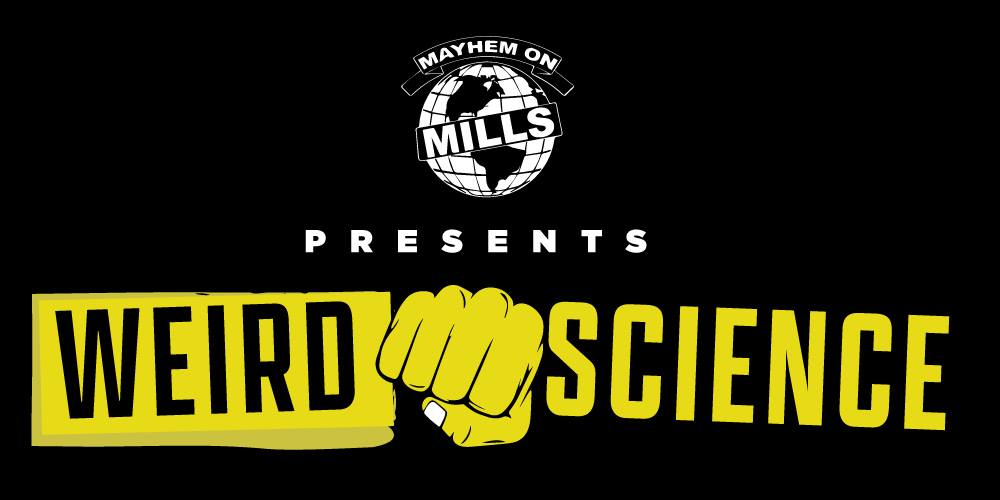 Mayhem on Mills presents: Weird Science
Online ticket sales have ended. Tickets are still available at the door until capacity is reached. Arrive early!
MAYHEM ON MILLS, Mills avenue's top independent wrestling league, is back after a year-long hiatus to amaze, astonish, and astound the Wrestlemaniacs of Orlando and abroad with their next exciting wrestling-concept show, WEIRD SCIENCE.
This event will take place OUTDOORS in the former auto-lot across from Wally's, aka Carlotta's, with help from Marketing Sponsor Bungalower, and Bar & Libations Sponosor, Will's Pub!
Come join us February 21st at 3pm for EXCITING PRO-WRESTLING ACTION with 5 extraordinary matches planned, including:
The imposing and intimidating fan-favorite SAWYER WRECK will answer the challenge of Orlando's most hated motor-mouth DRENNEN in a MILLS STREET FIGHT
The two meaty monsters known as THE END (Parrow and Odinson) will take on the exhilarating young upstarts TASK FORCE
Mayhem on Mills Champ TROY HOLLYWOOD defends against the wretched and scandalous HUNTER LAW
PLUS: "The Weapon of Sass Destruction" EFFY, "The Child of the 8th Day" SAIEVE AL SABAH, WOLFE TAYLOR, SNOOP STRIKES, & MORE
At WEIRD SCIENCE, we welcome the return of the HANDSOME MAN OF SCIENCE! After some slight technological malfunctions in his devices early last year that may have caused some minor disruptions in the fabric of the universe, the HANDSOME MAN OF SCIENCE has promised to unveil a new device that could reshape our future (and maybe the past)!
A NOTE OF SAFETY: We have made the safety of the fans, wrestlers, and crew our highest priority. The event will be completely outdoors. All wrestlers and crew will be wearing masks the entire day except for when performing. Free Masks will be available. Wrestlers will have gotten Covid-19 tests within a week of the show. Audience members will be in sections, allowing for small groups of up to five (as family or close friends) to be together with 6ft spacing between groups. All Audience members will be required to wear masks.
General Admission: $20
Kids Under 14: $10