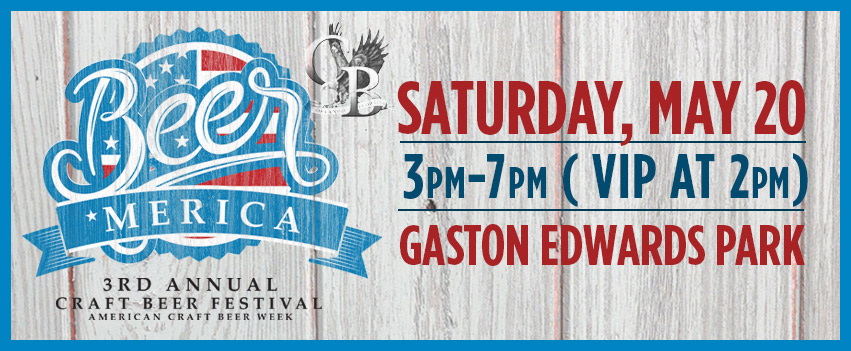 Beer 'Merica
General Admission Beer 'Merica (21+)
more info
In celebration of American Craft Beer Week, Beer 'Merica will feature complimentary samples of 100 craft brews, all from the good ole USofA.
VIP Beer 'Merica (21+)
more info
With ticket purchase you will receive everything included in the GA ticket plus get admission into the event an hour early, parking and complimentary gift.
Designated Driver Beer Merica
more info
Designated Driver Ticket gains you access to Beer Merica to enjoy the lakeside in the park at Ivanhoe Village, with live music, play zone and more for an awesome Saturday! Note: You will not be able to consumer any alcoholic beverages with this ticket.
Beer 'Merica will bring together over 100 American craft brews in celebration of American Craft Beer Week on Saturday, May 20th. The event will be held from 3pm-7pm and include live music, delicious food, and complimentary craft brew samplings. Beer 'Merica benefits The Camaraderie Foundation. The proceeds from last years event provided 250 individual counseling sessions for post 9/11 service members or their families.
Participating Breweries:
GOOSE ISLAND
SHOCK TOP
BLUE POINT
RED HOOK
BRECKENRIDGE
OMISSION
KONA
ELYSIAN
10 BARRELL
SOUTHERN TIER
SWEETWATER
VICTORY
MAGIC HAT
GREEN FLASH
PERSIMMON HOLLOW
WOODCHUCK
CARIBE
SHIPYARD
BIG STORM
SEA DOG
BOLD CITY
BIG TOP
BEST DAMN
WILD BLUE
MOTORWORKS
3 DAUGHTERS
TAMPA BAY
TOMOKA
FIRST MAGNITUDE
DEAD LIZARD
GOLDEN ROAD
ISLAMORADA
KEY WEST
OCEAN SUN
SPIKED SELTZER
FL BEER COMPANY
VIRTUE